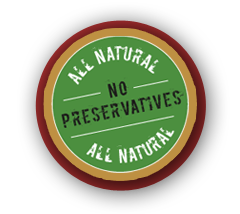 MAN SHED BEANS
1 pkg. Polish sausage or smoked sausage (spicy if desired)
1 red bell pepper
1 yellow bell pepper
1 onion
4 cans "Bush's Baked Beans" (each can should be a different flavor)
1-lb.bag brown sugar
1 bottle Jacobi's Premium Barbeque Sauce
Cut the sausage in small pieces and brown it on the stove. Drain and set aside. Dice the peppers and onions. Saute them and set aside. In a large iron kettle add all 4 cans of beans, brown sugar and Jacobi's Barbeque Sauce. Heat this to a simmer, then add sausage, peppers and onions. Leave the pot on a slow simmer for an hour.
EASY PULLED PORK
1-8 to 10lb. Boston Butt Pork Roast
1 cup water
Salt
Pepper
Jacobi's Premium Barbeque Sauce
Place roast in roasting pan, add water, salt and pepper lightly. Cover and bake for 8 hours @ 325 degrees. The bone will pull right out and the meat will be falling apart. Discard fat and bone. Shred meat and top sandwiches with Jacobi's Premium Barbeque Sauce.
BARBECUE MEATLOAF
1½ lbs. lean hamburger
1 small onion, chopped
1 small green pepper, chopped
1 tablespoon butter 2 eggs, beaten
1 teaspoon salt
Black pepper
½ cup Jacobi's Premium Barbeque Sauce
Cook onion, green pepper and butter in microwave for 1 minute. Mix hamburger, egg, salt, pepper and onion and pepper mixture together. Shape into loaf. Bake 45 minutes in 350 degree oven. Take from oven and pour off liquid. Spread on Jacobi's Barbeque Sauce over top. Bake for 15 minutes
SEND US YOUR RECIPE
If you have a favorite recipe that you would like to have featured on our site, send us a message!